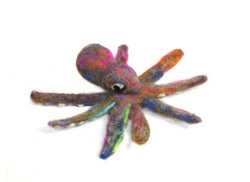 Needle Felted Alpaca- Octopus
This Felted Alpaca Octopus , is part of our Ocean Life collection. A collection of stunning sea life animals that inhabit waters around our planet. We are constantly awed by nature's beauty and seek to capture the essence of special traits, shapes, and coloring. Our fascination with this majestic group of creatures is evident in our attention to detail. We love collaborating with rescues, preserves, and societies that study and protect these amazing living beings. We enjoy educating through creating them whether they're plentiful or endangered species. Each piece is original with slight variations, and all are created with love. 


Size is approximately 3 inches long and 2-3 inches high. They are small but precious!